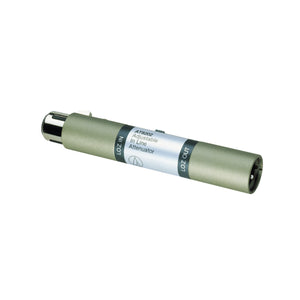 Audio-Technica AT 8202 In-Line Attenuators LOT OF THREE ON SALE
Sale!  Buy this lot of (3) AT8202 for $74.97, reg $113.97  
Perfect for padding the output of your four channel mic preamp!
The Audio-Technica AT8202 Adjustable In-line Attenuator is designed to prevent balanced low-impedance microphones from overloading electronics having low to mid impedance inputs in high-SPL applications. The adjustable attenuator is designed to assure the proper match of the microphone to the inputs of mixing consoles and portable recording devices without experiencing input overload of the electronics due to high-level signals. The AT8202 is compatible for use in phantom power applications.
Prevents overload of sensitive input stages
Provides -10 dB, -20 dB or -30 dB attenuation
Compatible for use in phantom power applications
Durable steel case provides optimum shielding from hum
For use with balanced Lo-Z microphones
Can be plugged directly into an XLRF-type chassis-mount connector
Useful if you want to hit your mic input with a hot signal.  Insert this after the output so you don't clip your A/D converter.
Input Impedance
1000 ohms (-10 dB)
Output Impedance
200 ohms (-10 dB)
Frequency Response
20-20,000 Hz
Attenuation
-10 dB, -20 dB, -30 dB
Input Connector
XLRF-type
Output Connector
XLRM-type
Weight
2.8 oz (80 grams)
Dimensions
3.94" (100 mm) long,
0.75" (19 mm) diameter